Al Nayzak Registers Three Technological Industrial Companies and Opens a Factory for Innovative Agricultural Equipment
Nablus:- Al Nayzak for Supportive Education and Scientific Innovation opened the first factory for innovative agricultural equipment in Palestine as part of its "Made in Palestine" Incubator which is implemented in partnership with Diakonia. The program aims to develop Palestinian economy and bridge scientific research with industrial and business markets. The event took place in Aqrabanyeh village near Nablus to celebrate years of investment in scientific and technological entrepreneurship.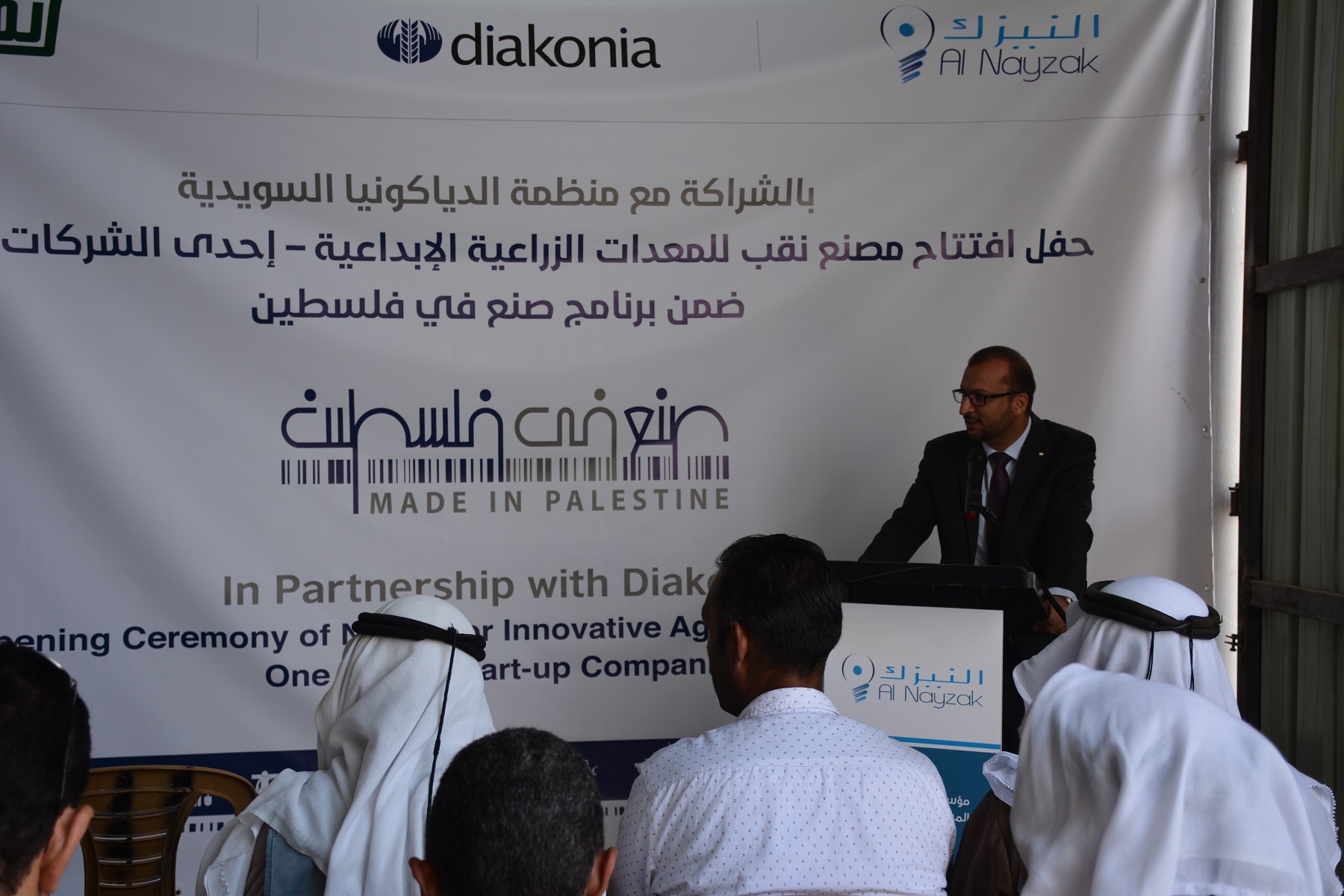 The opening ceremony was attended by Ms. Anna Bengtsson Regional Manager of Diakonia, Dr. Safa Abu Assab Palestine Civil Society Development Programme (PCSD)Programmes Manager, Engineer Aref Husseini Chairman of Al Nayzak, Mrs. Nour Nusseibehh Head of Operations at Al Nayzak, Dr. Wajih Arouri representative of the Higher Council for Innovation and Excellence, Engineer Wajdi Kukhn Agriculture manager at Nablus, in addition to a delegation of businessmen and investors as well as the local council and the village residents.
In his speech, Eng. Aref Husseini expressed his pride with this achievement as the first step towards realizing Al Nayzak's vision and supporting innovation and entrepreneurship. Eng. Husseini highlighted the role of such initiative in enhancing the Palestinian economy and resistance by supporting agricultural innovation as a tool against land confiscation and settlement. Husseini concluded by thanking Al Nayzak's main partner Diakonia, and its strategic partners the ministry of Agriculture and the Higher Council for Innovation and Excellence.
On behalf of Diakonia, Mrs. Anna Bengtsson, Regional Manager, thanked Al Nayzak for its role in supporting Palestinian youth and congratulated Ibrahim Daabis, the owner of Naqab for Innovative Agricultural Equuipement. Mrs. Bengtsson further highlighted Diakonia's role in supporting youth and promoting socio-economic justice.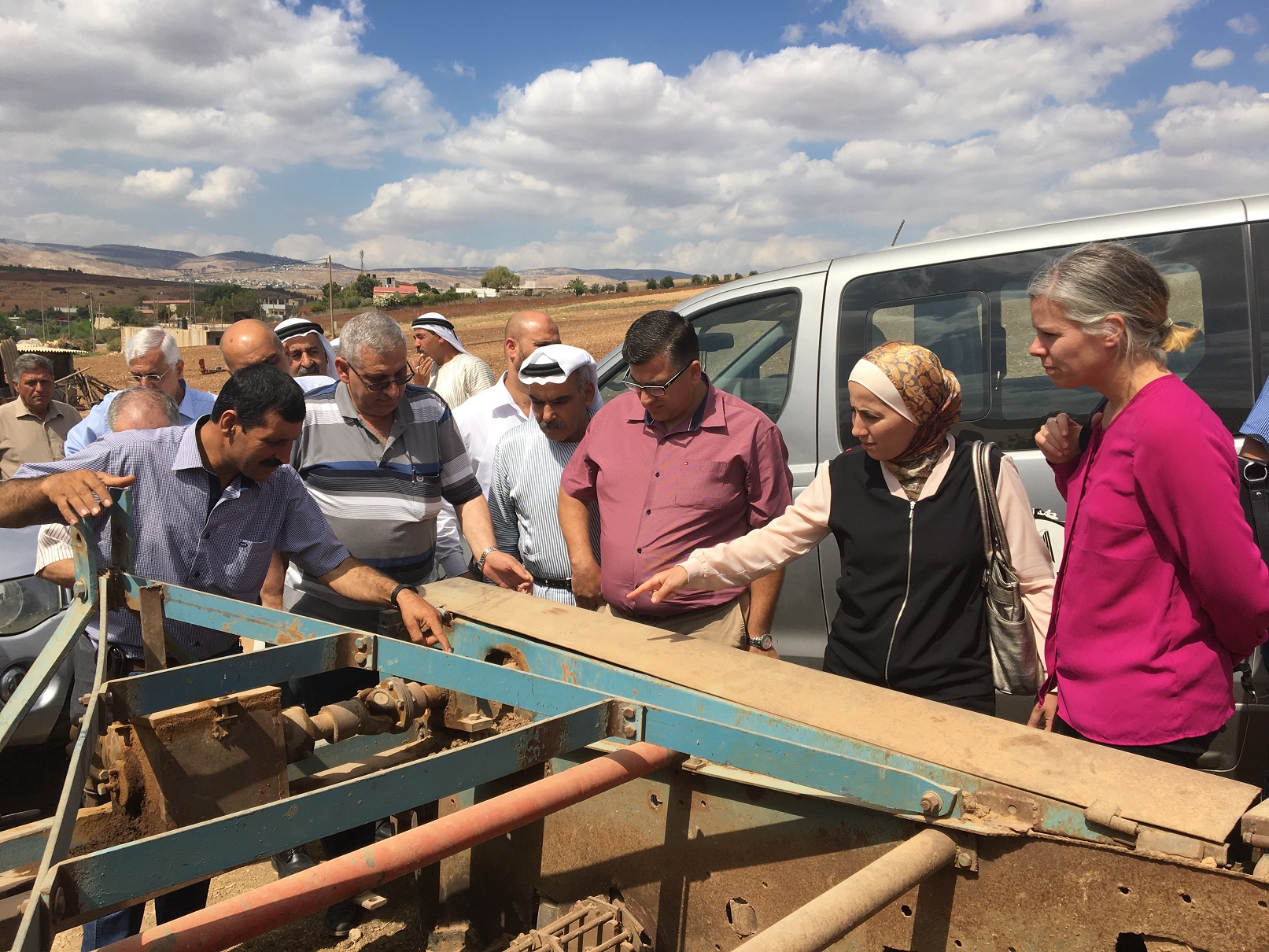 Engineer Wajhi Kukhn emphasized the importance of investing agricultural resources and highlighted the ministry's role in supporting local produce and the need to import Palestinian produce internationally. Engineer Kukhn thank Al Nayzak and Diakonia for their role in supporting this project, hoping that Made in Palestine Incubator offers more opportunities for innovative youth.
Dr. Wajih Arouri called out for Palestinian innovators to approach the Higher Council for Innovation and Excellence as it supports Palestinian Innovation and Entrepreneurship. Dr Arouri further thanked Al Nayzak and Diakonia for providing distinguished opportunities for youth.
Palestinian Company for Agricultural Equipment Naqab, was founded after several years of development of agricultural equipment and machinery and providing services to farmers. The company is recognized for its innovative industrial practical solutions it offers to the problems faced by farmers and providing the necessary tools to reduce the cost of crops and services, increase productivity, and reduce losses.
Made in Palestine Incubator also supports "Hygeia" company focusing on innovative medical appliances, as well as Titan Links, an educational technological app for interactive learning. The companies were established in response to market needs.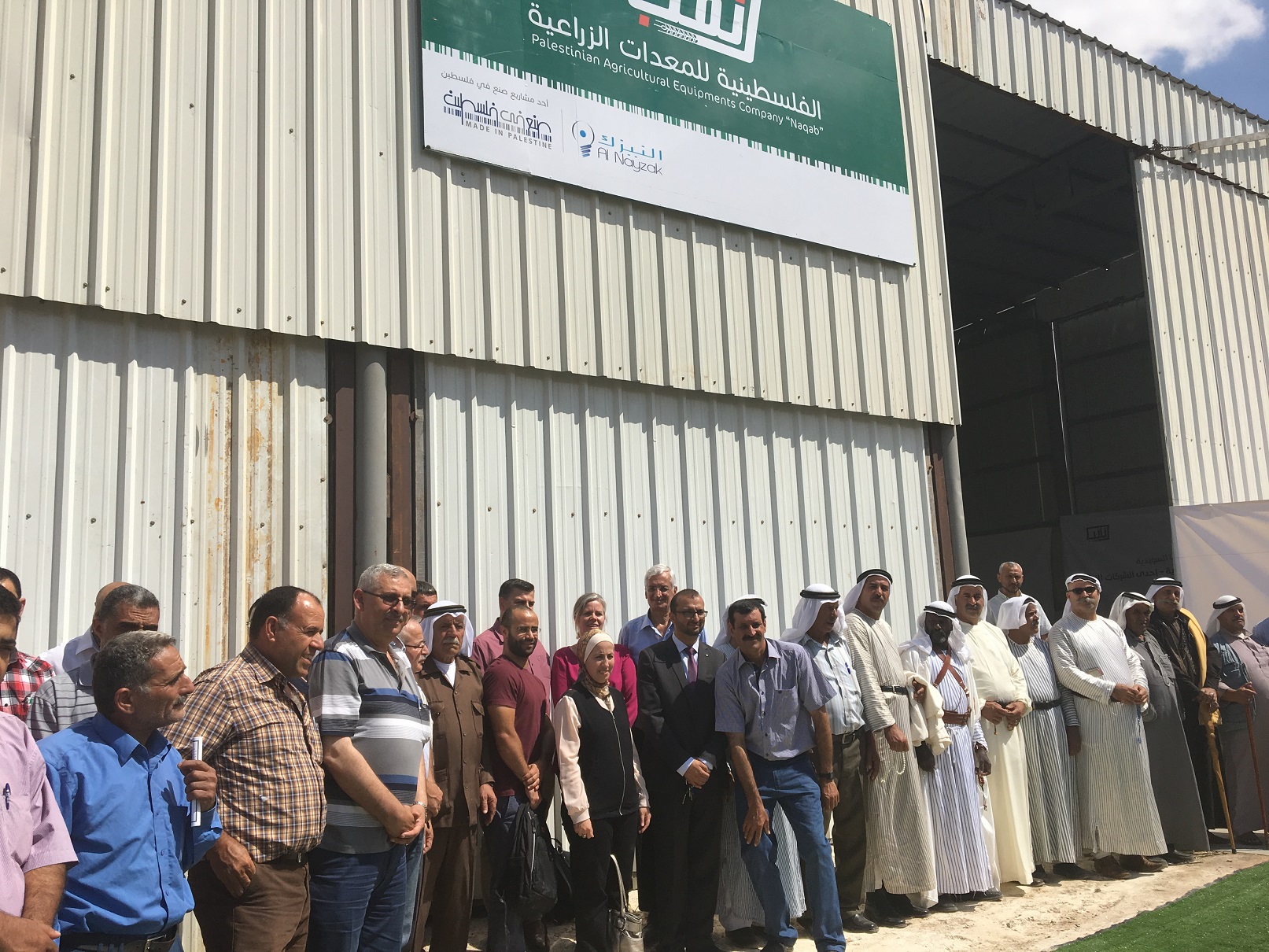 "Made in Palestine" Incubator is one of Al Nayzak's Annual programs. It aims at supporting new innovative ideas in science, engineering, and technology, and linking the academic experience gained at university level with the technical skills needed to proceed in business, in an effort to provide solutions to the technological, scientific and industrial problems encountered by local community.
The program's essence is to provide Palestinian innovators inside and outside universities with the feasible opportunities and possibilities to achieve their hopes and aspirations which, in turn, could lead to results of practical value in developing new products or solving technical problems using creative methods and mechanisms.
Post the great success for the program in creating a culture of innovation and celebrating creativity in Palestine, the program is implementing the startup methodology to incubate and scale up the enterprises until they become capable to unlock new markets locally and internationally with competitive products labeled as "Made in Palestine".